Pardon the football reference, but it IS Superbowl Sunday!  However, I'm talking about the kickoff I've had to a new year of reading. If January is any indication of how the rest of the year will go, I'm in for a terrific trip around the sun!
In anticipation of the ALA Youth Media Awards that were held January 28th, I tried to read as many books as I could that made Mock Newbery and Mock Caldecott lists. I always love trying to guess which books will make the final cut,and my track record is pretty dismal. However, I almost always love the choices the committee members make.
I felt like a winner by being able to read so many fantastic books this January, and this is only the tip of the iceberg of books still on my TBR stack. Here are the middle grade novels that kicked off 2019 for me:
And here are the picture books that kicked off my Year of Picture Books 2019:
I've already started digging into my February stacks and loving 'em! I'd welcome any suggestions of your favorites. I almost always make choices based on recommendations since there is so little time, and so many books I want to devour!
Here's to A YEAR OF READING in 2019!
Shared Spark! OPENING LINES- We talk with students about the importance of leads and how those first lines can hook a reader. A fun Spark is to share a few opening lines from books and invite students to choose one and take off from there. Have students write for 5-10 minutes and see where those lines take them. It's fun to share and discover where a lead may guide a writer and discover the endless possibilities. For more quick write ideas you can check out SPARK! from Stenhouse Publishers.

One More Off My TBR Stack!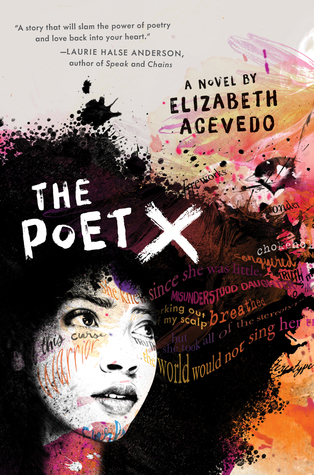 THE POET X by Elizabeth Acevedo
National Book Award, Pura Belpré, and Golden Kite Honor Award Winner!
Elizabeth Acevedo is renowned for her slam poetry, and now she is just as accomplished as a kidlit author. Her debut YA novel, The Poet X, tell us the story of Xiomara Batista. Xiomara (See-oh-MAH-ruh) and her twin brother (whom she refers to only as Twin) were miracle babies to their older parents who thought they'd be childless. Mami is ultra-religious and wishes she'd been a nun, Papi is a reformed womanizer who let's Mami run the household. Xiomara feels unheard, but has so much she wants to say. She decides to write it all down in poetry in the notebook Twin gifted her. She finds love, but is forbidden to date or be around boys. She wants to join the slam poetry club, but must attend confirmation classes instead. Will Xiomara get to be her authentic self or will the collision course she is on with church and Mami's rules destroy her chance at the life she desires? Amazing story in verse. I kept rereading sections to savor the #DeliciousWords!