For the month of March I will be participating in the Slice of Life Challenge sponsored by The Two Writing Teachers Blog. Each day I will be sharing a Quick Write as my way of slicing. The idea is to offer a SPARK that will kindle thinking and then write as quickly as you can for 5-10 minutes. No filters, no revisions. I've been curating a collection of Sparks and will share some with you all month. It's a great way to ignite your writing life.
Book Reviews

Spark!

:
One of my favorite quick writes are book reviews that I write and share. I've been trying to do a better job with my Goodreads account and I frequently share reviews on my personal Facebook page and Amazon. I try to get my thoughts down quick while they are fresh in my mind. I suppose if I put more time into them they'd be more polished and engaging, but without any filters my responses are authentic, honest, and sometimes a little raw. I'm good with that. Knowing that it is just a short burst of writing has been one way that I've been able to be consistent with writing and sharing them. You might also notice that most of my reviews are positive. That's because I'm pretty selective BEFORE I read–there are so many books, so little time. I go on the recommendations of others often, so I know how valuable these reviews might be to someone's book selection. I encourage readers who love books and appreciate authors to make this quick write a regular habit. Share your #KidLitlLove with others. Those authors will thank you!
Here's quick write review I shared this weekend:
Sometimes fiction and reality intersect in our lives in providential ways. I was in the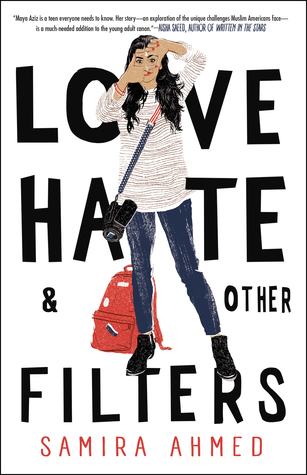 middle of reading Samira Ahmed's debut YA novel this week when a white national terrorist murdered innocent Muslims in their mosque in New Zealand. This story took on a deeper and more relevant meaning immediately. 17 year old Maya Aziz was born in America to Indian immigrants and attends high school in Illinois. She has always felt a struggle between these two worlds. Her parents' love is important to her, but their plans for her life do not align with her own goals and dreams. Just as she might be convincing them to let her pursue a career in film in NYC, a terrorist attacks a federal building in Springfield killing over 125 people. First reports claim it was a Muslim terrorist and Maya's family is threatened and assaulted, but even when they realize the attacker is a white nationalist the ramifications of fear still haunt Maya's family and threaten their dreams and even their lives. Throw in a high school romance of forbidden love and this book will connect with so many readers on a number of levels. An important read-especially during these times of rising nationalism, prejudice, and irrational fears.
Give it a try. Regularly quick writing reviews will shape the way you start reading books, too! You'll develop an appreciation for those gifts the authors have crafted just for you-the reader. If you comment today, please share a book recommendation, too if you'd like