I head back to school this week and have never worked so hard during my "vacation" to prepare for the start of the school year.
I am reading everything I can on how to be an anti-racist and become an educator who embodies social justice and equity in both my personal and professional life.
I am learning how to use new digital platforms to deliver instruction in engaging and meaningful ways. I know what and how to teach, now it just feels like I have to do everything with my left hand and it is sucking up an incredible amount of mental bandwidth to make that happen.
Teachers across my district, our state, and the country are rolling up their sleeves and doing whatever needs to be done to meet these new challenges-including updating their wills and getting their personal affairs in order. This is not a normal return to school, and tragically for some it will probably be their last. This virus doesn't care how dedicated you are-just how accessible you are.
This quote (above) by Heidi Crumrine speaks to what my aching heart feels…"Our schools have become a panacea for fixing all of the problems of society, and now we have a problem that our schools just can't fix." And yet SCHOOLS NEED TO OPEN has become a rallying cry for those aching for normalcy and for a society that has expected schools to:
furnish daycare
feed hungry children
offer mental health services
provide dental and medical care
arrange for crisis intervention
protect children from abusive homes/situations
offer sports, arts, and extra-curricular activities (during and after school)
because we as a society haven't figured out that our children (future citizens) would be much better off if the "village" rolled up its sleeves and offered these services as well. Asking schools and teachers to bear the burden while raising test scores, providing differentiated learning from severely disabled through highly 'gifted' span of learners, and meeting every state mandate passed by legislators has always been a big ask (oh, and please cut your budget by 5-10% each year–don't want to raise our taxes, ya know!)
If we were the problem solvers and innovators that I always hoped America would be, we'd take this crisis as an opportunity to re-prioritize and creatively respond to the needs of our society rather than shifting responsibility (I.e. BLAME) to our schools.
Are we that America? As some schools that have reopened are already shutting back down again  we may have to seriously contemplate that question this year.  Does our village (America) really care enough  to raise our children?
Another Good Read…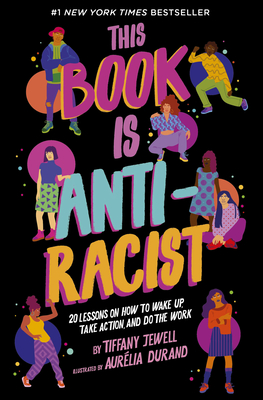 THIS BOOK IS ANTI-RACIST by Tiffany Jewel
Broken into 20 engaging lessons to empower young people, Tiffany Jewell guides readers through exercises to explore identity, recognize racism, fight its injustice, and become anti-racist. She shares stories of her personal history as well as cultural history that she quotes James Baldwin as saying, "We carry our history with us. We are our history." If you ever wanted to build skill in speaking up, standing up, and becoming an anti-racist, this is the book for you and your children/students. The illustrations/graphics by Aurélia Durand are bold and beautiful, and the invitation to start a notebook to explore our experiences, beliefs, and identities really appeal to me. I think 6th grade and up would learn so much-I know I did. A must-have for any anti-racist resource library.